Attorney Ashley A. Poindexter Joins Bodman PLC Grand Rapids Office
01/21/22
Bodman PLC is pleased to announce that attorney Ashley A. Poindexter has joined the firm as an associate in the Grand Rapids office.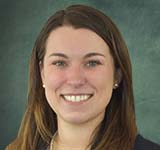 Poindexter is a member of Bodman's Litigation and Alternative Dispute Resolution Practice Group. She practiced previously in the Grand Rapids office of another Michigan-based business law firm.
She has varied experience in all phases of the litigation process and has managed more than 30 first-party no-fault insurance defense cases.
Poindexter is a graduate of Michigan State University College of Law where she was a recipient of the Trustees Scholarship and the Bernard J. Fieger Scholarship. She earned many academic awards including 1st Place Oralist in the MSU Law Final Moot Court Competition and 2nd Place Overall in the Appellate Lawyers Association 2019 Moot Court Competition. She was selected for the American Bar Association National Appellate Advocacy Moot Court Team in 2018.
She is a former law clerk to the Hon. Michelle M. Rick of the 29th Circuit Court in Gratiot County, Michigan. She also served as trial practice institute technology assistant to the Hon. David McKeague of the U.S. Court of Appeals for the 6th Circuit. Before becoming an attorney, Poindexter worked as a business processes coordinator for a global provider of engineering software and services. She also worked in marketing and exhibit coordination with the Center for Automotive Research in Ann Arbor, Michigan.
Subscribe for updates
Subscribe for updates