Bodman Chair Carrie Leahy Honored as One of Michigan's 100 Most Influential Women
11/16/21
Bodman PLC is pleased to announce that firm chair Carrie Leahy has been named one of Michigan's 100 Most Influential Women by leading business publication Crain's Detroit Business.

A profile of Leahy is available on the Crain's web site honoring all of the award recipients. Leahy will be recognized along with the other honorees at a program hosted by Crain's in Detroit on November 18.
The Most Influential Women designation is awarded to a group of women leaders only once every five years. Honorees are distinguished women in all areas of business, public service, and higher education who use their influence to create positive change in their professions, companies, and communities.
Congratulations to all of the women recognized on the 2021 list, and congratulations again to our friend, colleague, and leader, Carrie Leahy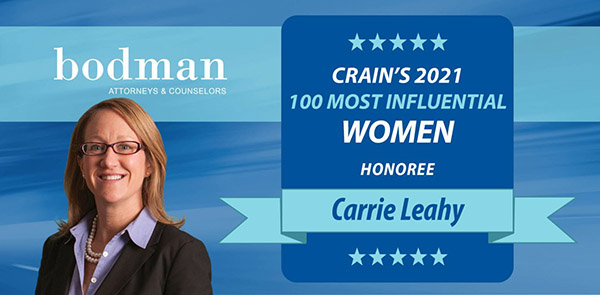 Subscribe for updates
Subscribe for updates