Pro bono is ingrained into Bodman's culture, beginning with our summer associates and carrying through to our most senior lawyers.
The firm encourages and supports pro bono work through its policies, its long-standing Pro Bono Committee, and its employment of a full-time Pro Bono Counsel, who manages the firm's pro bono program.  Our innovative and effective pro bono efforts make Bodman a model and leader for other firms in the state.  Most paramount, our efforts have a direct impact in our communities and in the lives of those with little or no access to legal services.
Ensuring Access to Justice
We provide substantial, free services to homeless and low-income residents who may otherwise have no access to legal services.
Bodman works with legal service organizations across the state to provide pro bono assistance on expungements, driver's license restorations, property disputes, estate planning, and name changes, to name a few of our projects.
The firm is also a long-time partner of Street Outreach Court Detroit ("SOCD"), a specialty court of the 36th Judicial District Court that provides a fresh start to homeless residents. Bodman provides free civil legal services to all graduates of the SOCD program.
Before the pandemic, we helped form and operate two Detroit-based legal clinics at the Capuchin Soup Kitchen and Crossroads of Michigan. We hope to work again with these clinics and their guests when circumstances permit.
Economic Growth and Community Development Efforts
Bodman's transactional attorneys work closely with both community non-profits and low-income entrepreneurs, with the goal of promoting economic growth in our communities and among their residents.
We work closely with Michigan Community Resources ("MCR") to serve non-profits in need of sophisticated transactional legal services.  Bodman has  three times been named MCR's Pro Bono Law Firm of the Year.
We partner with ProsperUS Detroit in its mission to revitalize neighborhoods by concentrating micro-enterprise development in low-income immigrant and minority neighborhoods. Our attorneys provide free, high-quality legal services to many of ProsperUS' entrepreneur clients and their small businesses that would otherwise not be able to afford legal assistance. We are proud that ProsperUS Detroit recently named Bodman its Service Provider of the Year.
Enforcing Civil Rights
Bodman has also assisted civil rights organizations by investigating and fighting against large-scale injustices.
Bodman attorneys have worked as election hotline volunteers and poll workers for the presidential primary and presidential election of 2020 as part of an effort to protect voting rights with the Lawyers Committee for Civil Rights under Law Election Protection Project.
We assisted the Civil Rights Clinic at MSU College of Law in representing prisoners challenging Covid-19 protocols within the Michigan Department of Corrections, and we represented several inmates in the Oakland County Jail who were requesting early release due to the coronavirus threat.
Several Bodman attorneys are representing Michigan inmates in their requests for commutation of their sentences as part of Bodman's Michigan Clemency Project; and
We continue the work of representing Michigan prisoners sentenced to life without parole for crimes committed as a juvenile in connection with the nationwide effort to obtain resentencing of such offenders pursuant to new U.S. Supreme Court mandates.
Spotlight on our Community Parters
Bodman works with a variety of community partners in its delivery of comprehensive pro bono services. In this newsletter, we highlight ProsperUs Detroit. Our active projects with this organization include representing businesses with initial start-up matters like incorporation, contractual development, obtaining patents, and reviewing commercial lease agreements.
An Inside Look at ProsperUs
ProsperUs does equitable development work in Detroit, Highland Park and Hamtramck through microlending, entrepreneur training and business services.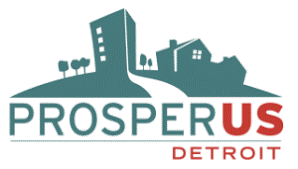 ProsperUs intentionally supports low-income business owners and those who may face other systemic barriers to developing their business. It is a relatively young organization, celebrating its tenth anniversary this year.
Bodman has assisted ProsperUs since at least 2018 by offering pro bono business services to ProsperUs clients.  ProsperUs refers low-income entrepreneurs to Bodman, and those entrepreneurs are matched with Bodman attorneys depending on their unique business needs. Bodman has also offered office-hour style workshops for ProsperUs business owners to drop in and have their business-law related questions answered.
Clients have expressed appreciation for the quality of Bodman's services. One entrepreneur, Ciara, obtained help developing a standard rental contract for her party rental supply company. Without Bodman's assistance, she wouldn't have been able to develop a contract that not only protected her business, but also provided her customer with fair terms. Another owner of a business – Leaf Me Plant Boutique -received assistance from Bodman to patent a product she developed.
ProperUs is thankful for the partnership it has been able to grow with Bodman. In the future, Bodman looks forward to developing workshops with ProperUs, other community partners, and their clients.
Pro Bono Honor Roll and Charitable Giving
Bodman attorneys and staff are recognized for their pro bono work  as well as their charitable giving.
2023 State Bar of Michigan Pro Bono Honor Roll
2022 State Bar of Michigan Pro Bono Honor Roll
2021 State Bar of Michigan Pro Bono Honor Roll
2021 State Bar of Michigan Access to Justice Campaign Leadership Law Firm
2020 State Bar of Michigan Pro Bono Honor Roll
2020 State Bar of Michigan Access to Justice Campaign Leadership Law Firm
2019 State Bar of Michigan Pro Bono Honor Roll
2019 State Bar of Michigan Access to Justice Campaign Leadership Law Firm
2018 State Bar of Michigan Access to Justice Campaign Champion Law Firm
2017 State Bar of Michigan Circle of Excellence
Bodman is committed to supporting organizations, locally and throughout the country, that focus on human services, education, and culturally diverse areas of need. In addition to the hours of Pro Bono work donated by the firm annually, Bodman attorneys and staff have contributed their time and dollars by volunteering with and donating to many worth organizations; the following are examples of organizations to which we contributed from 2021 to 2023. We are proud to support organizations that continue to make a significant and positive impact in the communities where we live and work.
Charitable Giving at Bodman, 2021-2023

AbilityFirst
Access to Justice Fund
American Heart Association
ByKids4Kids
Capuchin Soup Kitchen
Catholic Charities of Southeast Michigan
Children's Charities at Adios
Detroit Bar Association Foundation
Flint Institute of Arts
Gilda's Laughfest
Grosse Pointe Little League
Leukemia and Lymphoma Society
Life Directions

Lighthouse of Oakland County
March of Dimes
Michigan Roundtable for Diversity and Inclusion
Native American Rights Fund
Oakland County Bar Foundation
Pelotonia
Racing for Kids
Rocket Giving Fund
Sacred Heart Major Seminary
Southwest Solutions
The Children's Center
The Salvation Army
Women Lawyers Association of Michigan Foundation