Bodman PLC Named 'Law Firm of the Year' by Michigan Community Resources
12/04/13
Michigan Community Resources (MCR), a Detroit-based organization that matches nonprofit groups serving low-income communities with law firms willing to provide the nonprofit groups with free legal services, has named Bodman PLC its 2013 "Law Firm of the Year."
Bodman was honored on December 3 at MCR's 15th Anniversary celebration held at the Virgil Carr Center in downtown Detroit's Harmonie Park District. Bodman was chosen for the award based on its longstanding commitment to MCR and the extent of services provided to MCR client organizations. So far in 2013, Bodman lawyers and paralegals have devoted more than 350 hours to nearly twenty separate projects referred to the firm by MCR.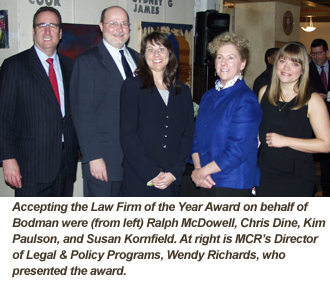 "We know our clients can count on Bodman for matters big and small," said Wendy Richards, director of legal & policy programs MCR. "[Bodman's] commitment has played a significant role in sustaining nonprofits that serve our most vulnerable populations."
The award was accepted on behalf of Bodman by firm Chairman Ralph McDowell, Pro Bono Committee Co-Chairs Susan Kornfield and Christopher Dine, and Pro Bono Counsel Kimberly Paulson. In her acceptance remarks, Paulson cited the important role that MCR plays in Bodman's extensive pro bono program.
"With our headquarters located in downtown Detroit, Bodman attorneys are acutely aware of the overwhelming level of need for pro bono services," Paulson said. "Our relationship with MCR is vital to our pro bono work because it helps our attorneys focus their efforts on important projects and allows them to see the positive impact their work has on our communities."
Bodman has an extensive pro bono program that is guided by a standing nine-member pro bono committee. The firm partners with a number of referral organizations and is a longstanding member of the State Bar of Michigan's Pro Bono Circle of Excellence, indicating that it exceeds the State Bar's voluntary pro bono standard.
Subscribe for updates
Subscribe for updates