Brigid D. Fox Joins Bodman PLC Troy Office
07/11/22
Bodman PLC is pleased to announce that attorney Brigid D. Fox has joined the firm as a member in the Troy office.
Fox joins Bodman's High Net Worth Practice Group. She advises clients on estate planning, asset protection, and wealth preservation matters.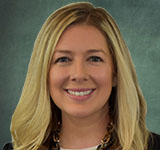 She helps individuals, families, and businesses protect and transfer their assets to achieve wealth preservation in the most tax efficient way possible. She provides clients with comprehensive and tailored estate planning documents, including revocable and irrevocable trusts, wills, and powers of attorney. Fox also handles a variety of probate and estate and trust administration matters. She has significant experience in the preparation of state and federal tax returns.
Before joining Bodman, Fox practiced in the trusts and estates group in the Chicago office of a large national law firm. She began her legal career as a trust administrator with JPMorgan Chase in the high net worth group in its private bank.
Fox is a graduate of Chicago-Kent College of Law, Illinois Institute of Technology. She holds an undergraduate degree from the University of Michigan.
Subscribe for updates
Subscribe for updates