Damali Sahu Appointed Chair of Gleaners Community Food Bank of Southeast Michigan
09/08/23
Bodman PLC is pleased to announce that Damali Sahu, a member of the firm's Banking Practice Group, has been appointed chair of the Board of Directors of Gleaners Community Food Bank of Southeastern Michigan.
In this role, Sahu will oversee the 25-member board of directors and provide leadership, guidance, and support for Gleaners' mission to achieve a hunge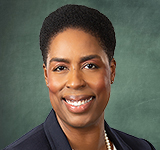 r-free community in Southeast Michigan. She will serve a term of three years and may be re-elected for up to two successive terms.
Headquartered in Detroit, Gleaners serves five Southeast Michigan counties: Wayne, Oakland, Macomb, Livingston, and Monroe. Gleaners provides food to more than 400 partner agencies, including schools, soup kitchens, food pantries, shelters, and others across the region, and supplements the efforts of those partners by offering direct-service, drive-up grocery distributions.
Sahu has a long history of service to charitable, community, and professional organizations. She currently serves as the vice president and treasurer of the board of directors of New Paradigm College Prep school and is on the board of directors of the Michigan Roundtable for Diversity and Inclusion. She previously served as a board member of the Los Angeles Chapter of the Risk Management Association, a board member of African-American Attorneys in Downtown Firms (AAADF), and the vice president and treasurer of the board of directors of University YES Academy in Detroit.
Sahu's legal practice is focused on representing financial institutions in general commercial loan transactions and real estate transactions, including single lender, syndicated and second lien loan transactions and small business administration guaranteed loans. She also has extensive experience structuring, negotiating, and documenting secured and unsecured commercial loans to borrowers in a variety of industries. She is listed in The Best Lawyers in America 2023 under Banking and Finance Law and was selected for the Crain's Detroit Business list of Notable Women in Law in 2021.
Subscribe for updates
Subscribe for updates