Julie E. Nichols Joins Bodman PLC as Pro Bono Counsel
11/13/23
Bodman PLC is pleased to announce that Julie E. Nichols has joined the firm as Pro Bono Counsel, based in Troy.
In conjunction with the Pro Bono Committee, Nichols will coordinate all aspects of the firm's pro bono program and manage the firm's relationships with numerous legal clinics and referring organizations. She has extensive experience representing pro bono clients and coordinating the activities of volunteer pro bono counsel.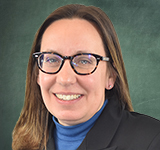 Before joining Bodman, Nichols worked for seven years as a supervising attorney and pro bono manager with Legal Services of Eastern Michigan where she handled all manner of civil cases, assisted clients, prepared pleadings and court documents, supervised outside attorneys, and coordinated civil cases with the private bar. She also spent many years in private practice, most recently as a partner in the Insurance Coverage Group of a highly respected Michigan-based business law firm.
Nichols is a magna cum laude graduate of Wayne State University Law School. She also holds a Master's degree from Wayne State University and received her undergraduate degree from The University of Michigan.
Nichols served as a law clerk to Judge Cornelia G. Kennedy of the U.S. Court of Appeals and to Justice Patricia Boyle of the Michigan Supreme Court. She was the Executive Editor of the Wayne Law Review and earned several academic honors, including the Ira J. Spoon Award and Scholarship, the Board of Governors Scholarship, and the Dean's Scholarship.
Subscribe for updates
Subscribe for updates