PRO BONO PORTRAIT | Forgotten Harvest Enters into Co-Branding Agreement with Michigan Food Producers
Bodman's Pro Bono Program Helps Nonprofit Develop a Revenue Stream, Raise Profile, and Foster Collaboration with Local Michigan Businesses
09/28/16
Forgotten Harvest is a nonprofit organization that is dedicated to relieving hunger in metro Detroit by preventing nutritious food waste through the collection of surplus prepared and perishable food from 800 sources such as grocery stores, fruit and vegetable markets, restaurants, caterers, dairies, farmers, wholesale food distributors, and other Health Department-approved sources. This donated food, which would otherwise go to waste, is delivered free-of-charge to 280 emergency food providers in the area.
Forgotten Harvest and grocers, working with local food manufacturers and food entrepreneurs in the metro Detroit region who were looking to give back to the community, created a marketing opportunity that enables people to support local foods and do good at the same time. They created Forgotten Harvest Premium Brand Foods, a co-branding marketing program that allows local food brands to license Forgotten Harvest's brand or place its logo on their items. By partnering with Forgotten Harvest, a portion of each sale of the product, helps feed the hungry.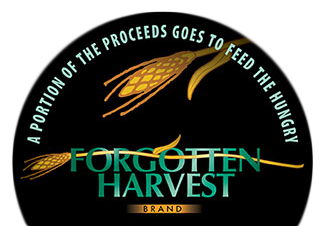 Through Bodman's Pro Bono Program, attorneys from our Intellectual Property practice created the trademark license used by Forgotten Harvest to co-brand products with Michigan companies, which is similar to celebrity Paul Newman's "Newman's Own" model. This endeavor is intended to provide a revenue stream to the non-profit organization, in addition to raising its profile, encouraging collaboration with local businesses, and supporting employment in the region.
So far, local products that are available with the Forgotten Harvest co-branding are Apolonia Dressings (Southfield, MI), Jen's Gourmet Dressings (Novi, MI), Scotty O'Hotty "The Motor City Hot Sauce"™ (Dearborn, MI), Michaelene's Gourmet Granola (Clarkston, MI), and Detroit Bold Coffee Co. (Highland Park, MI). Forgotten Harvest branded products made by local producers include salad dressing made by Mucky Duck Mustard Co. Factory (Ferndale, MI), pasta sauce by Romano's Foods (Royal Oak, MI), and jam by Slow Jams Jam (Oak Park, MI).
Related:
Subscribe for updates
Subscribe for updates