Bodman Attorney Jennifer M. Hetu Appointed to State Bar of Michigan's Intellectual Property Law Section Council
08/25/23
Bodman PLC is pleased to announce that Jennifer M. Hetu has been appointed to serve on the State Bar of Michigan's Intellectual Property Law Section Council.
In this role, Hetu will be an active voice in ensuring that proposed policies, projects, and services prepared by the Intellectual Property Law Section Council members are aimed to further advance the over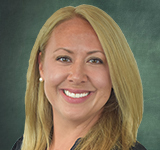 all member growth as IP lawyers.
Hetu is a member of Bodman's Intellectual Property Practice Group and is based in the firm's Troy office. Her practice focuses on trademark law and brand protection. She advises businesses of all sizes on a wide range of trademark matters in the U.S. and international markets, collaborates with foreign law firms on worldwide trademark protection, and provides counseling regarding U.S. use and registration.
Hetu also counsels businesses in the rapidly growing cannabis industry on how to navigate trademark protection strategies in the current landscape. She is a former trademark attorney with the U.S. Patent and Trademark Office (USPTO).
The Intellectual Property Law Section provides education and information on federal and state patent, trademark, and copyright law issues through seminars, publications, and networking events.
Subscribe for updates
Subscribe for updates